Categories:
Fashion
Edita Vilkeviciute stars in Massimo Dutti's spring-summer 2017 campaign
Massimo Dutti travels to Morocco for its spring-summer 2017 campaign photographed by Hunter & Gatti. Starring models Edita Vilkeviciute and Fei Fei Sun, the pair wear relaxed silhouettes with elegant separates. Stylist Marina Gallo makes sure the pair look super chic in airy blouses, breezy skirts and sleeveless jackets. Jordi Fontana worked on hair and makeup for the shoot. See more images and the official Massimo Dutti campaign film below!
MASSIMO DUTTI SPRING/SUMMER 2017 CAMPAIGN
Hunter & Gatti photograph Massimo Dutti's spring-summer 2017 campaign
Edita Vilkeviciute gets her closeup in Massimo Dutti's spring-summer 2017 advertising campaign
Fei Fei Sun stars in Massimo Dutti's spring-summer 2017 campaign
Massimo Dutti embraces relaxed silhouettes for spring 2017
Fei Fei Sun wears khaki green shirt and maxi skirt with slit from Massimo Dutti
An image from Massimo Dutti's spring-summer 2017 campaign
An image from Massimo Dutti's spring-summer 2017 advertising campaign
Photographed in black and white, Fei Fei Sun stars in Massimo Dutti spring 2017 campaign
Massimo Dutti sets spring-summer 2017 campaign in Morocco
comnum(0) tbcount(0) tbcount(125)
Categories:
Fashion
Adwoa Aboah stars in Versus Versace's spring-summer 2017 campaign
Gigi Hadid can now add photographer to her every growing list of hyphenates like model, designer and social media star. The American beauty captures Versus Versace's spring-summer 2017 campaign. Her boyfriend, singer Zayn Malik and British model Adwoa Aboah appear in the images. The photographs were captured with iPhones and digital cameras, adding to a sense of intimacy. The campaign spotlights leather jackets, light wash denim and distressed sweaters. Patti Wilson worked as a stylist with hair by Justine Marjan and makeup by Brigitte Reiss-Andersen.
"The Versus campaign captures everything that is special about Zayn, Gigi and Adwoa. They are young people who define the mood of their generation with their honesty, energy and their love," Donatella Versace said in an official statement.
VERSUS VERSACE SPRING/SUMMER 2017 CAMPAIGN
Gigi Hadid photographs Versus Versace's spring-summer 2017 advertising campaign
Adwoa Aboah poses in Versus Versace's spring-summer 2017 campaign
Gigi Hadid photographs Zayn Malik for Versus Versace's spring-summer 2017 campaign
An image from Versus Versace's spring-summer 2017 campaign starring Zayn Malik
comnum(0) tbcount(0) tbcount(69)
Categories:
Other Brands
IMAGE: BURBERRY
DK88? That's probably going to be your first 'what-on-earth' question regarding the key bag from the recently launched February 2017 collection that's out in stores now. Yes, in case you didn't get the memo, Burberry is all about see-now, buy-now, erm, now with RTW, bags and accessories for both men and women, in stores now. Which brings us back to the DK88, the key bag for women from this collection. Why is it called so, you ask? Well, DK88 happens to be the code name of its signature honey-coloured gabardine cloth that was first used in the house's famed trench coat, patented by Thomas Burberry in 1888.
IMAGE: BURBERRY
And the bags, whose leathers come embossed with the same distinctive twill finish of the cotton gabardine (known now as Trench Leather), were also named DK88 as way of paying homage to the cotton gabardine that made Burberry the fashion powerhouse it is today. See the fine linear lines on the leather bags shown above? That's DK88.
At the heart of the collection is the Medium DK88. Vintage meets modern (click here to see them via Facebook), it's topped with a thick top handle on a full leather body that measures 31 cm by 24 cm. Finished with a rather large gold clasp that's definitely where the vintage part comes in, you can use the bag via its top handle, or have the option of adding on the removable shoulder sling for those over-the-shoulder/across-the-body days.
The roomy interior is fairly simple, with two pouch pockets and a zippered compartment, pretty straightforward as far as most bags are these days. Priced at SGD3795 for the Medium DK88 and SGD4595 for the Large DK88 (37 cm by 33 cm), these bags are now available either online via Burberry or at their stores in ION Orchard and Marina Bay Sands (where you can also see the bags in their full glory). But if you want to splurge, there are always the ones that come in exotic alligator, priced at SGD18,495 each.
comnum(0) tbcount(0) tbcount(67)
Categories:
Other Brands
Vibrant colors and zigzag prints are dominating the Hermes Fall Winter 2017 Runway. New bags and fresh designs are captivating us and at the same time, triggering our bag obsession. Meet the next collection of Hermes bags and be prepared for the upcoming hunt.
What is this? The upgrade-version of the Bolide Bag. Remember the shape and the handle? These bags will come in different designs like zigzag and tropical prints but as well as bi-colors or tri-colors. The perfect everyday bag has been again perfected for casual carry.
A new shoulder bag was presented on the runway. Though what you're spotting above is in solid color, but do expect a lot of variation of it, including multiple color choices. With its minimalistic design, the true craftsmanship lies on the sophisticated lock. It comes with a front flap and leather strap as well.
As Hermes says; 'Can you handle this?'. So these are lovely Hermes Kelly Bags with zigzag handles in multicolor. Just remember that they are only available in the next season, so once they're gone, they might be gone forever. And if you're a collector item, wouldn't be nice to have something unique in your wardrobe?
comnum(0) tbcount(0) tbcount(79)
Categories:
Other Brands
IMAGE: BALENCIAGA
If you thought the last bag Balenciaga did was crazy, wait till you see this. From Demna Gvasalia's Spring-Summer 2017 collection for Balenciaga, it's inspired by another humble carrier, vintage blanket/comforter bags that I used to remember seeing stacked on top of my Grandmother's wooden cupboard when I was but a wee lad.
Completely repurposed as fashion's next hit bag, Balenciaga's version stays true to the original. Large floral print, check. Name of the brand printed on the angled label on the top right hand corner of the bag, check. Even the handles are the same, except for the fact that they are now hand-twisted nappa as opposed to woven cotton. It even opens like a traditional blanket carrier, which opens suitcase-style as you unzip the bag from end to end.
Measuring some 56 cm by 47 cm, it's a bag that you'll either revel in its irony with, or just be completely repulsed and wonder why such a humble carrier would need elevation in the first place. But that's precisely the point of fashion, to provoke a reaction, be it good or bad, from us. Because honestly if everything is same-same, then we might just as well have one fashion house for everyone out there in the world, right?
IMAGE: BALENCIAGA
Priced at USD3975 and available online now via Balenciaga in orangey-red (shown above) or in a beige/blue combination, Balenciaga Singapore also has tiny full coloured variations (known as the Blanket Square) that come with a long shoulder sling. Besides the bags, you'll also find clutches (the same thing, but flattened with a zip that runs along the top) and I think in due time, long and compact wallets like they did with the Bazar collection.
Tags: Balenciaga Tote Blanket Square
comnum(0) tbcount(0) tbcount(48)
Categories:
Fashion
Gigi Hadid sports embroidered top and jeans in DSquared2's spring 2017 campaign
The spring-summer 2017 campaign season happened to be Gigi Hadid's best yet. From high fashion brands to commercial names, Gigi landed several major advertisements. Whether posing alongside her sister Bella Hadid or going solo, the top model proved why she is so highly in demand. All the campaigns show the many sides of Gigi. Photographers like Steven Meisel and Mario Testino captured the blonde in settings ranging from the beach to a paparazzi swarmed studio. Check out six of Gigi Hadid's top spring campaigns below!
GIGI HADID – SPRING/SUMMER 2017 CAMPAIGNS
Looking red-hot, Gigi Hadid poses in Max Mara Accessories' spring 2017 campaign
Surrounded by the paparazzi, Gigi Hadid stars in Moschino's spring-summer 2017 campaign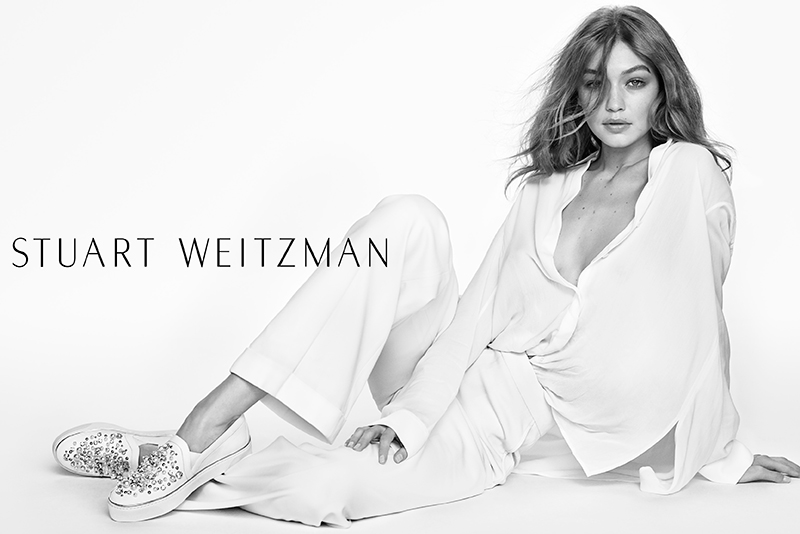 Gigi Hadid stars in Stuart Weitzman's spring-summer 2017 campaign
Posing in Paris, Gigi Hadid stars in Fendi's spring-summer 2017 campaign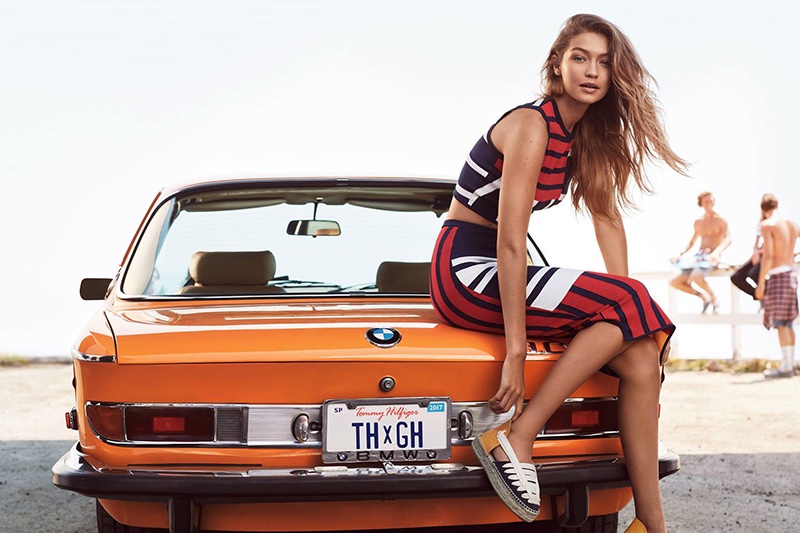 Gigi Hadid stars in Tommy x Gigi spring-summer 2017 campaign
Categories

New Posts

Hot Posts

Tag Cloud